The horticulture sector is in an excellent place. Horticulture and potatoes take up 2% of farmed land area, but represent 25% of farmgate value.1 Commercial fruit and vegetables, plants and flowers are highly valued and the sector is highly productive. We've looked at DEFRA's own statistics and we can see significant gains in fruit and veg in the last 15 to 20 years.
And I can see this success strengthening with the emergence of consumer trends towards plant-based diets, healthy eating and greener living spaces. Healthier eating is supported by the government's five-a-day recommendations and the Eatwell Plate campaign – where 40% of a plate should be fruit and vegetables. We aren't hitting those numbers yet, so there's room for growth in the sector.
Recognising our pruners, pickers and packers
However, not all government policy is working in our favour. We need a policy that helps producers maximise their natural capital. Top of the list is an immigration policy that recognises the labour requirements of the horticulture sector.
Labour costs account for between 40% and 70% of business turnover in the horticulture sector.2 No other industry has anywhere near as high a proportion. So, the availability of people who will come to grow, pick and pack a generally bruisable and perishable product is critical.
Every other European country draws workers from beyond the EU, whereas the UK is wholly reliant on people from within the bloc. Germany, for example, brings in hundreds of thousands of people from the Ukraine; Portugal welcomes Thai pickers; Spain draws from Morocco and North Africa. And if you look further afield, the US and Canada have a long-standing reliance on Mexico, and Australia depends on people from Tonga and Samoa.
Currently, though, we're heading towards an immigration framework that only allows skilled workers earning more than £30,000 a year. It's a policy that's not fit-for-purpose for advancement of the horticulture sector.
The perception is that we can easily replace people with robots, and that the sector is simply unwilling to invest. That's far from the truth. Robot development is happening, but we're five to seven years away from anything that comes close to the ability of human hands and eyes for identifying, grading and picking at speed.
So, we have a perfect storm – not enough people and technology that isn't ready yet. The risk is that productivity levels will drop and costs will go up.
The uncertainty around Brexit is exacerbating the problem. Partly it's because the devaluing of sterling makes a real difference to pickers. A worker from Romania, for example, will compare jobs across Europe with a goal in mind – saving to build a house or start a family perhaps. Suddenly, the UK isn't as competitive an option.
The risk is that productivity levels will drop and costs will go up.

Ali Capper, NFU Horticulture and Potatoes Board Chair
There are other challenges too, especially around our ability to take full advantage of new science, such as gene editing. Currently, we have limited access to techniques like this. It's a shame because they mean we could breed out pests and diseases and use fewer chemicals.
From vertical growing to new varieties
If we can find a solution to these challenges, then the opportunities for the sector are unlimited. There is a huge amount of investment in bespoke technological development – from vertical growing with LED lighting to automated packing and processing rigs out in the fields.
With the development of new varieties and growing systems, we could be – and should be – at the leading edge of producing nutritious, low-cost fruit and vegetables. I also believe there's a long-term opportunity to export our more robust and storable crops.
If you look at the climate change map, many of the places we import from will be struggling with water shortages and increased heat. For the UK, though, all climate change predictions show the UK continuing to be good for growing food.
The success of self-sufficiency
Twenty years ago, soft fruit was grown in the ground outside and we had a season of around six weeks. Today, strawberry crops are grown in polytunnels on tabletop systems. As a result, we have become 90% self-sufficient in strawberries between May and September. Year-round, we're achieving 70% self-sufficiency.3 Production has gone up from 35,000 tonnes to 120,000 tonnes in 20 years, British consumption has increased from 65,000 tonnes to 180,000 tonnes, and we've seen a doubling of the value-output per worker for soft fruit.4
Apples are another success story. In the '90s, many orchards were coming out and production fell. However, growers have consolidated and invested in new growing systems. When you have dwarf apple trees grown on a post and wire system, you present the pruners and pickers with a wall of fruit. Our own production has increased from 15 tonnes a hectare to 50 or 60 tonnes. We're growing fruit, not fresh air or wood as you do with a standard tree.
We also some have amazing British varieties that store well and taste delicious – Gala and Braeburn for example – but also have new eating apples coming through, such as Cameo and Red Windsor. The country has gone from 20% self-sufficiency in apples 20 years ago to 42%, and there's an ambition to get to 60% by 2030.5
Keeping pace with consumer trends
The biggest trends are in health and snacking. We're eating out of home more and more, so the sector has to step up and make sure fruit and veg are accessible on the move. The apple industry is bringing back the 'apple a day' campaign this year; berries make an excellent snack food; and there's a joint campaign between Veg Power and ITV to encourage children to eat vegetables.
I'm confident that the sector is keeping pace with these trends through technological development and the right levels of investment.
Apart from the uncertainty around Brexit, horticulture is well-placed and well-prepared for the future. Consumers are heading in our direction. All we need to do is have the right product available in the right places.
Related articles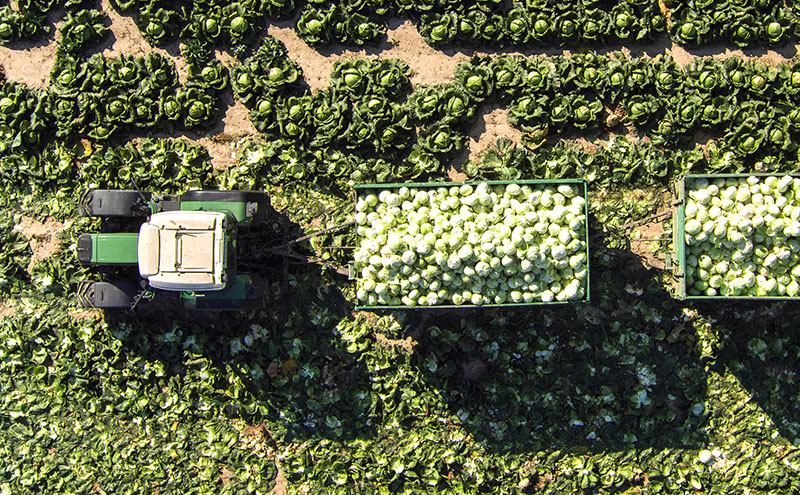 Cedric Porter of Brexit Food & Farming gives his view on the outlook for the farming industry