Thriving through change – key takeaways
The ability of businesses to adapt to change will define those that will thrive in the future. Whilst businesses have always had to adapt, recent months have proved testing. Now, as the country starts to reopen and the economy is expected to rebound, businesses face a new challenge – changing from survival to growth. Our panel of experts, including Dr William Bird, GP and CEO of Intelligent Health, Nolli Waterman, HSBC Global Rugby Ambassador, Glen Mullins, Managing Director, VUE Ltd, and Brandon Bichler, Partner at Elixirr, discuss how businesses can build personal and business resilience and create strategies that can help people and businesses thrive.
1. Leadership matters
"I've learnt more about being a leader in the last year than in the last 20 years," says Glen. "Businesses were hit hard and fast and that created a lot of uncertainty. Leadership became more important in providing support, direction and help to staff and inspiring and motivating them."
Brandon agrees: "Leadership is about setting the right environment for your team and understanding what you need to do to keep your team focused and positively driving forward."
2. Culture counts
Operationally, of course, managing and prioritising cash is essential to ensuring your business survives and thrives, but says Brandon, it's not the only thing that's vital. "Visibility and transparency of cash and the discipline of forecasting and reporting is important, but so is culture. Creating a culture where people feel true ownership, either structurally through mechanisms like shared ownership or using softer means like giving people an understanding of what and why decisions are taken and having a purpose, can help build resilience."
He talks about being open and sharing experience. "A company is a collection of people and everyone feels it when times are tough. Staying positive but not giving false optimism can help people manage reality but still see a path through. We've instituted weekly all-staff calls, for example, to increase transparency, but also to celebrate the small wins and keep momentum."
3. Shared experience
Nolli says that personal resilience, built on good physical and mental health is important, but that being part of a team can make that resilience stronger. "It's important to recognise an individual's strengths and what they can bring to an environment but building personal strength and resilience doesn't have to be at the expense of others. My favourite saying is that 'your candle doesn't burn brighter if you blow everyone else's out', and acknowledging other people's strengths and success and showing and sharing kindness can make a big difference."
Brandon agrees: "Teams that have gone through a tough time together will come out stronger – they don't forget that emotional memory."
4. Communication and technology
Maintaining communication has been one of the most important ways of building and maintaining business resilience through the pandemic, says Glen, and it's a lesson he's keen to continue. "I've realised I need to share what's in my head rather than just expecting people to follow my direction. By doing that, there's more openness and people can make their own decisions. It's been transformational for the business."
Technology has been instrumental in facilitating that communication, he continues: "Technology has allowed us to communicate more effectively. If Covid had happened even five years ago, it would have been very different, but today's technology helped us to connect with staff and customers quickly and effectively."
And Brandon explains that the impact of technology is one of the key changes that businesses cannot afford to ignore, particularly if they want to compete effectively in what has been termed the 'new normal'. "Anyone who wasn't investing in technology before the pandemic and through the pandemic has been left behind and businesses that are still not investing are those that may not make it."
You need to simplify change, to take the emotion out of it. The heartbeat of who you are as a person or as a business doesn't change; everyone is driven by the same goals, values and culture, and any change is peripheral to that.
5. Managing change
The scale and pace of change businesses and individuals have had to cope with has been unprecedented, but as Brandon explains, the nature of today's business environment means that businesses need to be able to handle and thrive through change more than ever. "If you don't have a team that's resilient to change, you're in trouble," he says. "Markets and technology move so fast that change is a reality."
How you manage that change, however, can make a world of difference. "It's up to business leaders to navigate those changes with their teams," adds Brandon. "To show that change is happening for a reason and to help people understand that, to make it safe for them. A leader's role is to reinforce the business' values, its culture and purpose – the things that don't change, which in turn creates a safe environment for necessary changes to happen."
Nolli agrees: "You need to simplify change, to take the emotion out of it. The heartbeat of who you are as a person or as a business doesn't change; everyone is driven by the same goals, values and culture, and any change is peripheral to that."
Glen says that communication is the key to overcoming change fatigue and helping teams make the most of new opportunities. "If you explain how and why things need to change, you remove some of that uncertainty and you can turn it into something really positive."
6. Physical activity builds resilience
William describes the impact of physical activity in boosting resilience and helping people manage change through supporting physiological processes and mental health. "The key ingredients for resilience are for people to feel that they belong, that they are safe and that they feel valued," he says. When uncertainty threatens those ingredients, it can lead to stress, which in turn can lead to a vicious cycle of physical inactivity, poor diet, lack of sleep and more stress.
By being more physically active and building that into your own day and encouraging your employees to do the same, you can stop that cycle, leading to greater resilience. "It doesn't have to be complicated," says William, "but businesses need to prioritise it. Business leaders need to be committed, because that culture of making people feel safe, valued and that they belong, starts at the top."
Here are 5 ways businesses can improve their activity levels and drive resilience:
Encourage staff to get up and move at least every hour. Always use the stairs.
Encourage a 30-min walk in the diary for everyone. Walking meetings can work.
Try walking/running challenges, but be inclusive and mindful of different work, home or fitness situations.
Provide each member of staff with a resistance band and instructions.
Encourage people to walk/cycle to the office when it reopens.
To find out more about how to get your business Tomorrow Ready, visit our hub at https://www.business.hsbc.uk/en-gb/tomorrow-ready-programme
Related Articles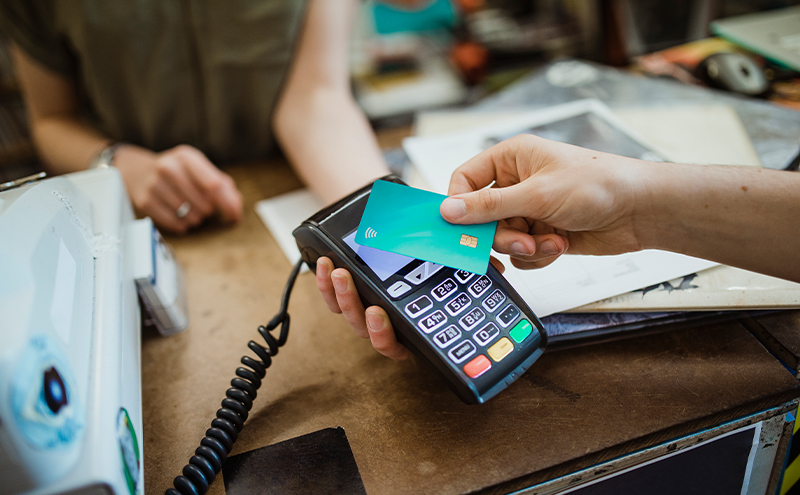 Taking payments digital as a small business
The way that people live, shop and work was already being disrupted by new technologies and digitalisation. But that seismic shift has been enormously accelerated by the COVID-19 pandemic. Businesses large and small need to respond to customers who are rapidly embracing ecommerce and digital payments, and demanding ever greater convenience in how they buy goods and services.