For the 12 months up to the end of December last year, egg consumption increased by 9% for free-range, which is clearly excellent growth for the industry¹. However, there's been a significant increase in the number of birds placed on farms through diversification and the expansion of free-range. In effect, we're producing more eggs than we're consuming at the moment. Throughput for free-range was up 11% last year – so, a 2% differential between supply and demand². Given that the sector is quite sensitive to overproduction, the system has been under pressure.
By the end of last year, the national laying flock had reached 40.1m birds – up 1.2m year-on-year. And all the evidence is that the flock is continuing to expand, specifically the free-range sector, which accounts for 60% of the national flock. Colony hens account for 33%, organic for 4% and barn for 3%³.
Size matters
One of the challenges for producers, however, is that consumers are obsessed with large and extra-large eggs to the detriment of small and medium sizes. Customers are willing to pay the price difference because they see it as good value for money, even though there may be as little as 1g weight difference between medium and large eggs.
There are two ways we can help remedy this. The first is for producers to manage their birds in terms of nutrition, lighting patterns and the timing of bringing them into lay to maximise large egg production.
The other, though, is about educating the consumers, retailers and even celebrity chefs that eggs of all sizes are just as good, healthy and value for money.
Market potential
Expansion is still going on and planning applications are in the pipeline. We also have official disease-free status after two years since the last avian flu case. Although we're overproducing now, as the market continues to grow, fueled by eggs being incredibly good value for money, we will need that extra capacity. So, if a non-egg farmer came to me for advice about getting into free-range egg production, I'd highlight the critical importance of location – they should be within reach of at least two packers to avoid reliance on a single business. They should also stress-test the forecast margins and cost out the proposition carefully. I would also encourage them to visit producers who have fairly recently diversified into free range egg production and attend industry discussion groups.
For existing producers, any expansion has to be right for the individual business, its location, market and costs.
The future of beak trimming
There are a number of challenges that producers need to be aware of and be planning for. Perhaps of the most concern is the pressure around the continuation of beak-trimming. At the moment, it's lawful to beak tip at day-old and, technically, up to 10 days, but the government has twice, in the last few years, tried to introduce a ban.
Despite research and trials that show a ban would not be in the interests of the birds' welfare, there is a definite drive to make this happen.
We have some of the world's highest welfare standards, yet other countries have already banned the practice. However, we can't compare UK flocks with those of other countries where more docile white hens kept in barn systems are the norm. We also have the largest population of free-range birds, which are more challenging to manage than colony and barn birds.
But, there is little doubt that a ban will come eventually. In the meantime, we need to know more about what triggers an outbreak of injurious feather-pecking so that we can manage our birds appropriately. The reality is that the welfare of laying hens is paramount to farmers, who are hardwired to do the right thing.
The cost of feed
Another issue for farmers is that around 65% of the cost of production is feed. Any increase in the price of raw materials such as wheat and soy has an immediate impact on margins unless the farmer has bought feed forward. The NFU has been encouraging both retailers and producers to embrace feed tracker contracts, which link the farmgate price to feed cost and shield producers from volatility.
Cage-free
A number of leading retailers and food service companies made commitments in 2016 to go cage-free by 2025. It is important to note that this is not a ban, rather it is retailers voluntarily switching to cage-free. This has led the industry to ask – what system of production will they switch to?
A general lack of clarity (with the exception of one major retailer) has, in part, led to an expansion of free-range production. The barn egg as a system of production would appear to be an alternative, albeit consumer recognition of the barn egg is at a low level. There is no doubt that the egg sector and more importantly consumers need a sustainable value egg, and barn would appear to be best placed in this regard.
Issues around Brexit
The industry has two main worries around Brexit. The first is that 35% of people employed in the egg sector – both farm and packing – are non-UK, so there may be a problem around access to labour. The second is that the type of trade deal we negotiate could have a serious impact on producers.
At the moment, 97% of the egg products imported into the UK come from the EU⁴. Without frictionless trade, we may see cheap imports from non-EU countries where welfare standards and costs are far lower. This would make it very difficult, if not impossible, for UK producers to compete. Indeed, in the event of a no-deal Brexit, government has recently announced that there is no tariff protection for eggs unlike some other sectors of agriculture. This is deeply concerning, given the fact that nearly a quarter of eggs are consumed as an ingredient in various products. The government's decision will mean these are more likely to come from sources outside the UK and potentially from systems such as battery cages.
By the end of last year, the national laying flock had reached 40.1m birds – up 1.2m year-on-year.

Gary Ford, Chief Poultry Adviser, NFU
35% of people employed in the egg sector are non-UK, so there may be a problem around access to labour.

Gary Ford, Chief Poultry Adviser, NFU
Clean bill of health
Having outlined the challenges, there are also some real opportunities for egg producers now. The Food Standards Agency has officially declared Lion standard eggs safe to eat runny – even for pregnant women. It shows how far we've come since the industry was devastated by salmonella scare-mongering in the late '80s. Along with this, there has been good publicity around the health benefits of eggs. This, together with affordability and versatility of eggs, should lead to a growth in sales over the years ahead.
At 200 eggs per person per year, we're still lagging behind other countries and there's room for more growth. Retailers are already committed to UK shell eggs, but we'd now like to see a similar commitment for UK eggs as ingredients in prepared food. By embracing British provenance, we could head off the risks of cheaper imports.
Learn more about how your business could benefit from specialist support from HSBC UK by visiting our Agriculture pages. To speak to an agriculture specialist, please call 07387 245208 (Lines are open 9am to 5pm Monday to Friday except public holidays).
Related articles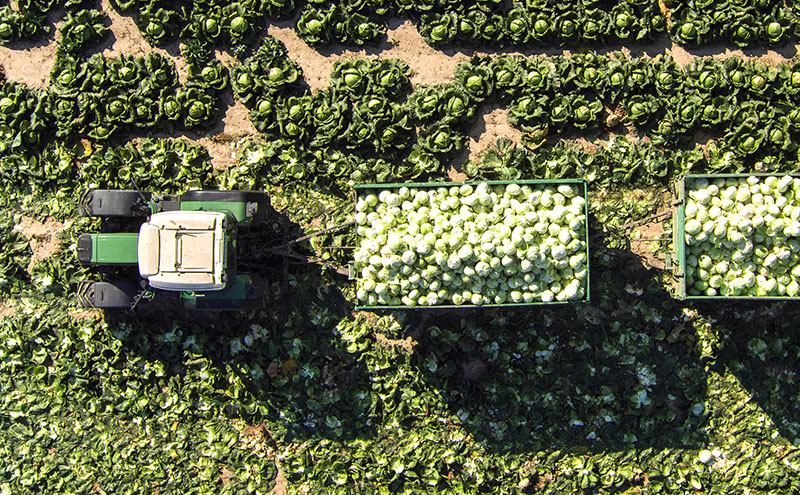 Cedric Porter of Brexit Food & Farming gives his view on the outlook for the famring industry