While growth has slowed in other countries over the past five years, China's economy still continues to grow. In order to reduce its dependency on exports and investment the Chinese government is pushing to increase domestic consumption as a percentage of GDP.
The intended change will bring about even more opportunities for SMEs who can position their products with their Chinese buyers in mind. This will require UK businesses to consider their China marketing strategies; understanding their Chinese customers will be a start, but this will have to be followed by product adaptation, overcoming language barriers, and customisation to local promotion channels.
Top tips
Know the regulations - despite the recent easing and simplification of regulations, China is a highly regulated country. Visit the related regulatory bodies' external websites for the latest updates.
The 13th Five Year Plan will run from 2016 to 2020 and was recently approved in Beijing during March this year. Follow the five-year plan - keep a close eye on the strategic industry focus of the Chinese government as well as geographical developments - this can help you identify and align your business for future opportunities.
Know your business partner - research your potential business partners thoroughly and get to know them to avoid potential disputes and litigation.
Be patient and persistent. Be prepared for challenges and competition, and don't underestimate market expectations.
If you are looking to grow your sales to China, offering to receive RMB in payment could be a smart move. Being open to receiving RMB may help you win new customers, and some Chinese buyers may be willing to offer better pricing or terms in return for the convenience of paying in their own currency.
Fact: In 2014,137,410 UK-built cars were exported to China, an increase of 14.5% over 2013.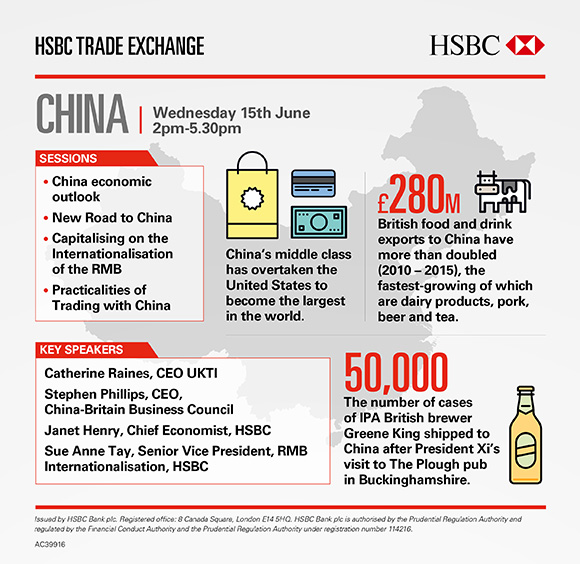 If you are looking to grow your sales to China, offering to receive RMB in payment could be a smart move.
For further information about trading internationally, visit the HSBC Connections Lounge at the International Festival of Business in Liverpool where an HSBC Trade Specialist will be on hand to answer your questions or call +44 (0)800 78 31 300.
Lines are open from 9am -5pm, Monday to Friday and calls are recorded for security and training purposes.