Liverpool FC is one of the world's richest football clubs, yet the streets around the club's spiritual home of Anfield are among the UK's most economically deprived and unemployment remains high.
According to Liverpool City Council, 6% of people in Anfield aged 16-64 claim benefits for being unemployed, while the citywide figure is 3.5% and it is 2% for the UK. The average household income in Anfield is £22,444 (national average £38,858), while 36.6% of its children live in poverty (national average 16.8%).
In the shadow of Liverpool FC's world-famous Kop stands Homebaked, a community land trust (a community-led housing and enterprise scheme) and hugely popular co-operative bakery and café. The aim is to improve Anfield and help to rebuild the local community – "brick by brick, loaf by loaf".
Community arts project
The origins of Homebaked date back to 2010, when artist Jeanne van Heeswijk, supported by Liverpool's Biennial (the UK's largest festival of contemporary visual art), sought involvement from Anfield people in a project that would improve their neighbourhood. This centred on the old Mitchell's Bakery building, which had been designated for demolition.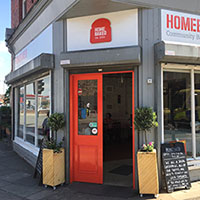 "Homebaked Community Land Trust was formed in 2012," explains treasurer, Sally-Anne Watkiss. "The aim was to refurbish the bakery building to provide workspace for social enterprise and affordable housing.
"The Homebaked Bakery Co-operative was incorporated in June 2012, with local residents wanting to re-open the bakery under community ownership, to create a successful enterprise with financial and social value. Homebaked is run by a board of volunteers, which includes myself, in partnership with local people and professional volunteers from the fields of law, architecture, accountancy and housing. Volunteers together give about 80 hours of their time free to Homebaked every week."
Good, affordable food
The popular bakery is famous for its delicious pies and fresh bread. Usually the café is packed to the rafters on matchdays, but is busy at other times, too. "It exists to provide good quality, affordable food for the locals and match day visitors, as well as training and jobs for local people, who earn a living wage," Watkiss stresses.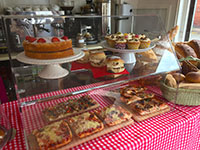 "The bakery provides jobs for 15 people, of which, 12 live in the immediate area. And through our volunteering programme, we're helping others to gain work experience and build their CVs. Some of our former employees have gone on to open their own food businesses," she adds.
Watkiss spent 25 years working as an accountant for insurance company, Royal & Sun Alliance. "Initially, I helped Homebaked with its business planning in the summer of 2013, before becoming treasurer in 2014," she smiles.
"Homebaked proves that a different type of business – one owned by the community – can be successful and thrive, while helping to alter perceptions of our community and area", Watkiss states. "We're based in a building that was a bakery for more than 100 years, it's iconic in the neighbourhood, and that tradition has been preserved. The café is an informal gathering place for the community, as well as a great alternative place for fans to buy food on match days."
Cause for celebration
Homebaked has received funding from the John Moores Foundation, Power to Change and the European Regional Development Fund. Watkiss adds: "We're now 90% funded by our traded income and we've just accepted our first social investment from [social impact business] First Ark.
"The aim has always been to create a self-sustaining community-based business. In the year to January 2018, our sales grew by 117%. Our revenue comes from the bakery and café, as well as wholesale pie sales and catering for markets and events, which help us to keep prices affordable in the café," she explains.
So, what advice does Watkiss offer to people interested in setting up a similar business to benefit their local community? "Be clear about why you're doing it and what you're trying to achieve – always refer back to these," she replies. "Remain nimble, too, because you'll be breaking new ground and you must keep learning and changing. And finally – be proud and celebrate your successes, because making a positive difference in your community or neighbourhood really is something worth celebrating."