Digital commerce has revolutionised cross-border trading over the past decade with marketplace websites giving suppliers the ability to access customers directly. Combined with the worldwide reduction of regulatory barriers, the rise of the internet has facilitated globalisation and businesses are now doing more cross-border trade than ever before.
Despite these advances, it's hard to beat having a presence in your target market. It's not just about the logistics of getting your goods to the market, you can also benefit from having 'eyes and ears' on the ground. The question remains, though, how do you find the right agent or distributor for your business?
Choosing between an agent or distributor
While both agents and distributors allow you to expand beyond the domestic market, they do so in different ways.
An agent arranges the sale of goods on your behalf. They never have claim to your goods, and the sale contract is between you and the customer rather than you and the agent. A distributor is a customer to whom you sell goods, which they may then resell for profit.
You may choose to have one or the other - or both. Whichever you choose will depend on a variety of factors, including the type of goods you are selling, the market you are trying to enter and how much control you would like over your product overseas.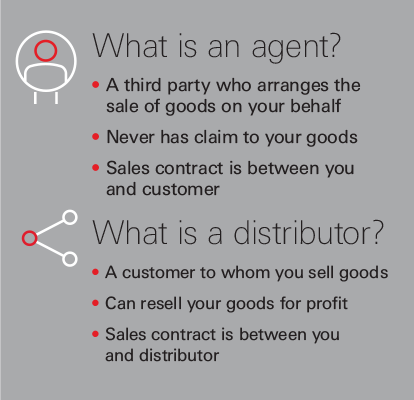 The importance of control
Control is key in the choice between an agent and a distributor. Agents work with you and form a kind of partnership, as their success depends on yours and vice versa. This means that you have full control of any engagements or arrangements made.
With distributors, it's a different story; they are under no obligation to keep buying from you, and you are unlikely to have a say in how your products are sold to the distributor's customers.
If protecting your brand is a high priority, you may need to evaluate how possible this would be within a distributor relationship. For some businesses, their priority is to get the goods to market, while others prefer to keep a tighter hold, so it depends what works for your individual circumstances.
Make sure you choose the right partner
It's crucial to choose wisely when forming any agreements with agents or distributors. With a bad match, it can take a significant amount of time to unravel any deals put in place across jurisdictions. A strong legal setup is advised in case of any disagreements.
As for finding a partner in the first place, the Department of International Trade (DIT) has embassies and high commissions overseas, together with a network of bilateral Chambers of Commerce. Along with the British Chambers of Commerce, DIT is the eyes and ears for UK businesses who wish to enter foreign markets, and can aid in sourcing an agent or distributor.
Do your due diligence
Knowledge, as they say, is power. You're likely to be outside your comfort zone when moving into a new market. As well as doing some research on the nuances and niceties of the culture and market, it's crucial to conduct thorough due diligence. Trust your natural instincts; if it seems too good to be true, it probably is.
Also, visit the potential agent or distributor in their own environment if you can. This provides the opportunity not only to meet in person, but also to inspect their premises, view their operations and get a feel for how well the relationship could work - far more than you would over a video or voice call.
Visit the potential agent or distributor in their own environment if you can.