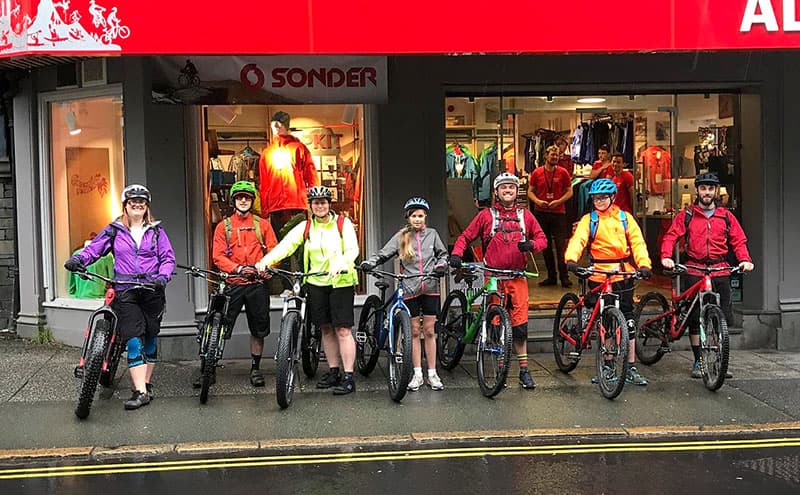 How Alpkit keeps its team ahead of the game
Outdoor gear specialists Alpkit plan to take on 40 people over the next three years. A bold move in uncertain times? Not according to chief executive David Hanney, whose enthusiasm for the company is just one of the ingredients that helps them recruit and retain talent.
"Our success, our vibe is entirely down to the quality of the team – our people working for the online business and in store," says David Hanney.
"The whole team has been on a journey together. I stand in amazement at how we've developed such a strong product range, how well it's been going and how we seem to have touched the pulse of the people. We've been voted online retailer of the year for five years."
Alpkit was founded by four outdoors enthusiasts 15 years ago, and was unique at the time for the combination of in-house designed products, direct online sales, same-day dispatch and excellent phone support. Since 2004, the company has touched more than 30 million customers worldwide and 30% of their web traffic is now international.
In the past three years, the company has also opened stores in Keswick, Ambleside and Hathersage.
The right people inspire confidence
"I go to each of our stores once or twice a month," adds David. "Our people are on their own most of the time, but I absolutely know that, when a customer goes into one of the stores, 99 out of 100 times they'll get a really good response."
With the help of funding from the Foresight Nottingham Fund and HSBC, Alpkit will be expanding over the next few years, and taking on an extra 40 people. That's a sizeable change for a company with a relatively small head office team, four designers and four sourcing and development staff.
The current climate has created a great deal of uncertainty for many businesses in terms of recruitment and motivating existing staff, so is Alpkit any different?
"Just before Christmas, we opened a new store," says David. "I have to admit that we were a bit worried about whether we'd be able to recruit a store team at that point, but we were prepared to take that risk because we had absolute confidence we could make it work. We are more cautious than we have been but, personally, I try not to worry about the things I can't control or influence.
"I've learnt that focusing on your competitive advantage and your strengths is what's important. When those are clear, people get enthused. I love the industry and the energy involved in hard work and I'm proud of our design capability and our speed to market – those make us strong, but also mean our people are part of something they can believe in."
Competition for talent
David acknowledges that there may be a squeeze on talent in the coming years and the company hopes not to lose its highly valued team members from mainland Europe.
"We're a small company, so I don't think we'll have significant issues – not in terms of people anyway. The main impact for us will be the volatility of sterling. For so many of our products, even the products we make ourselves, the fabric is bought in US dollars," he says.
In the future, when companies may be competing more fiercely for the best people, David feels Alpkit will offer staff something they can't find elsewhere.
"Nobody else is really doing what we're doing, it feels quite pioneering and everyone here has an influence on what we do. That's very satisfying," he says. "Also, we've achieved a lot and have the potential for a lot more, which is attractive. We offer a meaningful career with real development for all our staff."
Shared direction
David believes that development is as much personal as job-based – a chance for people to find out what path they want to follow.
"We do try to make sure we're aware of all the talent we have in the company and encourage ideas and involvement," he says. "Even if it means someone skips onto something outside of Alpkit, I love to see that our staff have achieved something, and we helped them on the way.
"The most important thing for us is having a strong idea of what we're doing at Alpkit and what we're planning to do in the future. A thank you, a positive attitude and enthusiasm go a long way too."
Alpkit's story shows that, for any small business, company 'character' and culture are important factors in recruiting the right people – and keeping them. But employees also want to understand the direction of the company and how they can play a part in its progress.
It's not just about having a clear direction; it's also being able and willing to share that with your people.