Invoice Discounting: Unlock cash from outstanding invoices
Want to raise cash against invoices while keeping control of your sales ledger? With our invoice discounting service, you could improve your cash flow and even protect your business against bad debts.
At a glance
Receive up to 95% of the value of your invoices the next working day or sooner

Manage your own credit control

Add Credit Protection to guard against late payment or bad debts
Key benefits
Improve your cash flow by releasing working capital tied up in unpaid invoices
Daily funding updates in line with your sales ledger
HSBC software connects with your accounts system for easy administration to save you time
Choose how you want your finance: in sterling, euros, US dollars or most other major currencies
Can be used for both export and UK sales
Protect your invoices with our optional Credit Protection service
Is Invoice Discounting right for your business?
Invoice Discounting could meet your needs if:
Your sales are growing and you want to ensure that your cash flow will keep pace

You have money tied up in the sales ledger that could be working harder for your business

You're funding a major purchase or planning a management buy-out/by-in and want the sales ledger to help fund your working capital needs

You want the sales ledger to fund your working capital needs

You want to manage your own credit control
Our Invoice Discounting facility could be suitable for businesses who:
Sell to other businesses on credit terms

Have an actual or projected annual business turnover of £1m+
Invoice Discounting is available to businesses that bank elsewhere as well as HSBC business customers. It can be used for international sales as well as UK sales.
How Invoice Discounting works
Invoice Discounting releases cash from your invoices the same day. Here's a quick overview of how it works:
You provide the goods/services to your customers and invoice them as usual
Our digital software integrates with your accounting system* and automatically uploads invoices and credit notes
We advance up to 95% of your invoices' value by the same day
You collect payment on our behalf when your invoices fall due
We make the remaining balance available, minus our agreed charges
The whole process can be managed online via HSBCnet.
* You can use one of our standard connectors suiting more than 20 popular accounting packages or our Universal Adaptor (CSV) for other bespoke solutions which we will work with you to implement.
Tools
How to get started
Connect with a Working Capital Specialist
Apply for Receivables Finance in 3 simple steps using our online portal
Get a fast-tracked offer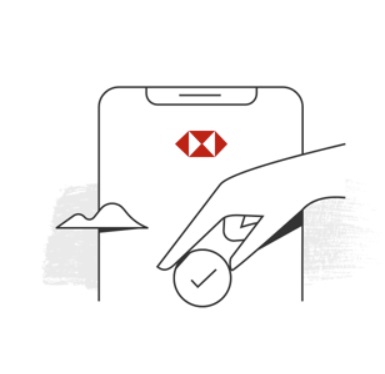 Our digital in-life journey
Unlocks funding against your unpaid invoices
A digital solution that links directly to your accounts package to automatically upload your sales ledger giving you access to additional working capital.
HSBC integrates with your accounts package via an API connection (Application Programming Interface) or via our connector which is downloaded and installed on your desktop or server to automatically update your ledger.
How does our digital journey work?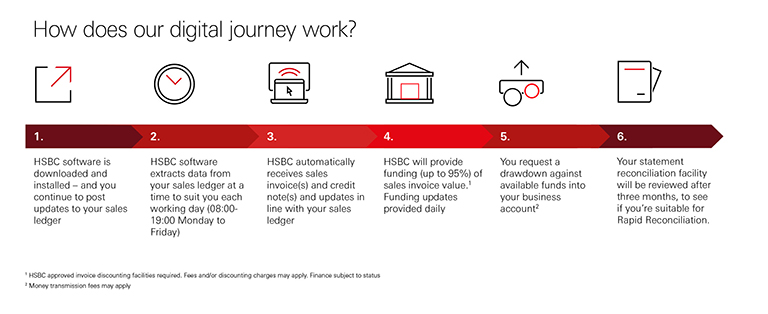 Important information
Find out more about our Invoice Discounting facility
Find out more about our Credit Protection service