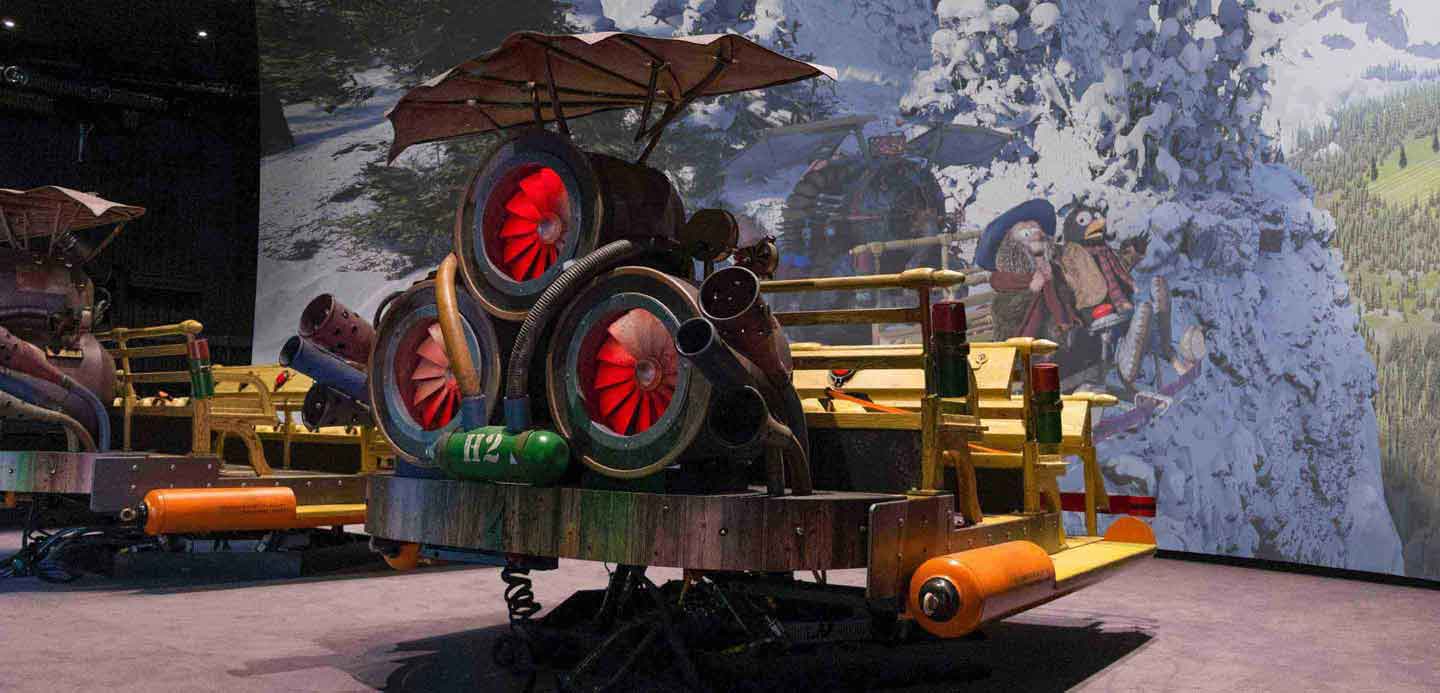 Growing my Business

Enable Growth
Seeking New Opportunities
Expanding Abroad
Trade attractions – Simworx and the General Export Facility
HSBC's global trade expertise and UKEF's new General Export Facility are helping support growth for West Midlands based theme park attraction designer and manufacturer, Simworx.
When you're talking about projects of that magnitude, the GEF definitely makes the running of our business much easier and rather than focussing on working capital, I can spend time on the continued growth of the business.
Established in 2005, Simworx designs and manufactures a range of media-based attractions for theme parks from its base in the West Midlands. Operating in a global marketplace, with customers ranging from existing to new parks, Simworx sees an average of 90-95% of its annual turnover generated from exports. The nature of projects undertaken means that guarantees are a key part of the business explains CEO Terry Monkton.
Projects can take anything from six months to two years, which means that when we're agreeing a contract with a customer, we are committing ourselves to a significant amount of expenditure. On a £2m ride, for example, materials alone would typically cost over £1m, so we need that deposit payment. From the customer's perspective, they're paying out that deposit before they have received any product so they'll be looking for an advance payment guarantee to secure that.
Facilitating projects
In order to obtain an advance payment or performance guarantee from the bank, Simworx would typically be required to secure the facility with the deposit received from the customer, with the funds held by the bank until Simworx meets the terms set out in the performance guarantee. Although the deposit and guarantee system provides reassurance for both Simworx and its customer, it means that funds are tied up during the project.
Keen to support international trade, UK Export Finance launched its General Export Facility (GEF) in December 2020. Simworx was one of the first businesses to take advantage of the benefits it offers.
The GEF provides a guarantee to banks like HSBC to support UK exporters and help them secure trade finance facilities. Available across trade loans, bonding and letters of credit lines, the GEF can support facilities up to £25m with a maximum repayment term of five years.
Freeing up working capital
For Simworx, the GEF is a perfect fit says Terry: "It means that UK Export Finance guarantee back to HSBC our ability to fulfil the contract. That means that HSBC can release the deposit payment and we can use that as working capital for the duration of the project.
The facility has made a huge difference to the company's cashflow, giving greater flexibility and enabling Simworx to pursue new contracts and its growth plans. Terry shares an example of some of Simworx's latest projects to demonstrate the point.
"We've secured a project recently in Saudi Arabia, which required a guarantee of about £300,000. We could have funded that one ourselves but for the next project – a Flying Theatre to a client in Russia – which required a guarantee of around £600,000, we would have had to sit down, really go through projections and be reliant on other receipts coming into the business. Having an advance payment guarantee facility via the GEF makes each project more accountable, so you can ringfence the cashflow for that singular project without it being a drain on the main business' working capital.
"When you're talking about projects of that magnitude, the GEF definitely makes the running of our business much easier and rather than focussing on working capital, I can spend time on the continued growth of the business."
Enabling growth
The General Export Facility is also streamlined to make the process simpler and less burdensome for growing businesses like Simworx.
"We've had facilities from UK Export Finance in the past," says Terry, "but what makes the GEF different is that the facility is just there. Once it's allocated, you don't have to apply every time you want to use it. You could say it's like having a million-pound overdraft – albeit one that obviously has to be supported by a signed contract and the project you're working on."
Simworx has already enjoyed considerable growth. Backed by the Business Growth Fund in 2015, turnover increased by 360% by 2019. And, despite the turmoil of the pandemic, Terry says enquiry levels are "outstanding" and he forecasts a return to pre-pandemic levels of growth in 2022 and a continuation of the business' upwards trajectory.
Making a difference
"We've continued to invest in new products and innovation that are garnering a lot of interest," he says. "We're also seeing growing interest from the ASEAN countries in particular, who are investing quite aggressively in theme parks and visitor attractions."
HSBC's understanding of global markets, as well as the time they've taken to understand Simworx and its aims, has been instrumental in the company's growth journey.
"When you're on this export journey and you feel like you've got a real expert on your team, it can make a real difference," says Terry. "With the GEF also in place, we can really focus on generating new export sales."