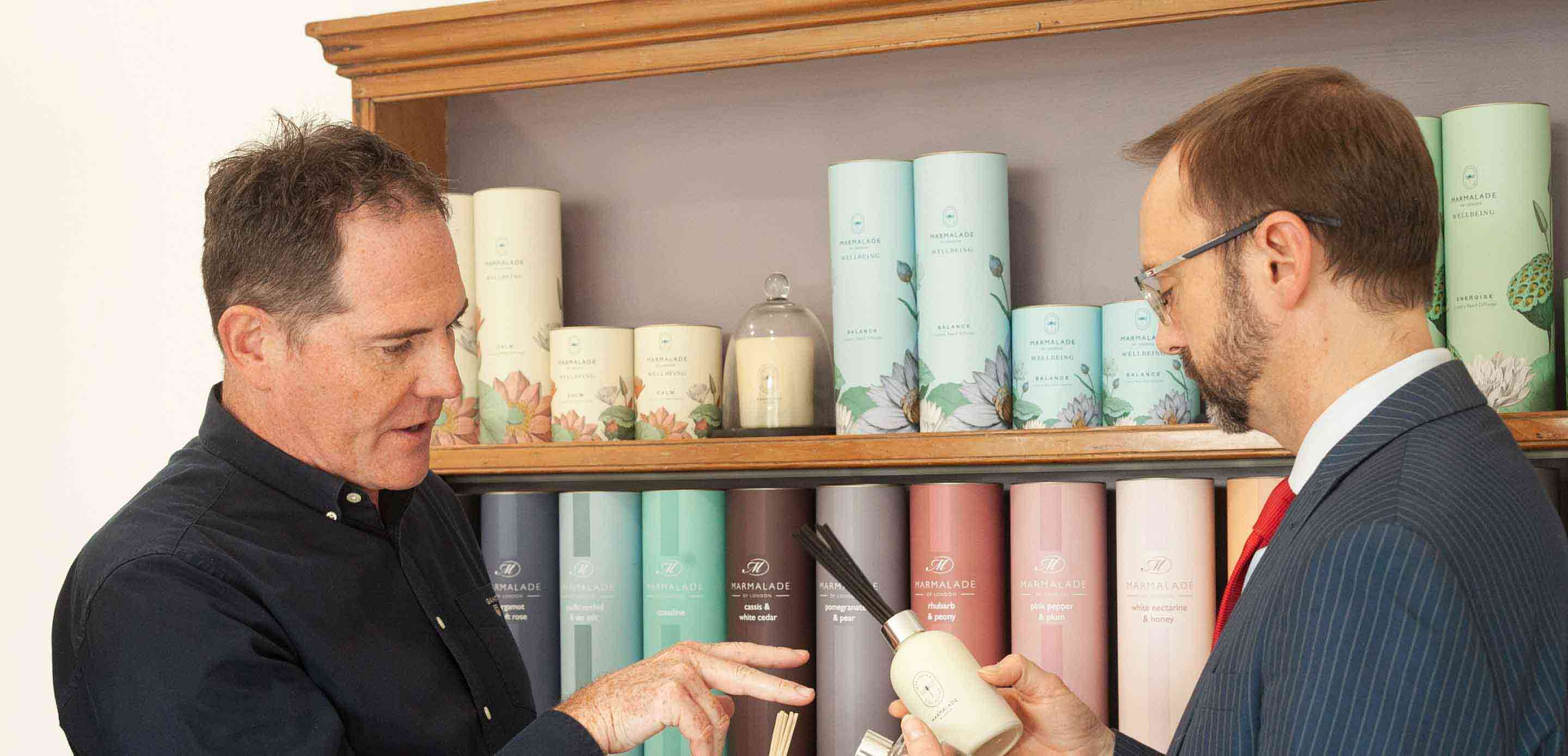 The scent of success: Marmalade of London
Candle and fragrance maker Marmalade of London has set out to prove that it is possible for a small, disruptor brand to find a place among global markets against far larger competitors.
From its launch 11 years ago, when its founders sold their first range of candles through UK artisan craft markets, Marmalade of London has always had global ambitions. Now, it is realising them. It has only been trading overseas for the past two years, and results are already exceeding expectations.
The brand is proving far more popular in North America than expected, in part because of the power of Britishness as a brand there. "Americans and Canadians love the Marmalade of London brand. We find ourselves in much bigger stores than we expected," says Piers Flook, the firm's Managing Director.
In the next five years we could easily be doing ten times what we are doing in the UK in America alone, and possibly the same in Canada.
Support from the Department for International Trade helped the firm identify the US as a good prospect and this is now a strong focus for the business. Marmalade of London's exports currently comprise about a third of its sales but the scope for export growth is enormous. "In the next five years we could easily be doing ten times what we are doing in the UK in America alone, and possibly the same in Canada," says Piers. "Opening orders even for small US gift stores can be worth $10,000 and can climb steeply from there for larger retailers. Some orders are so large they can clear the company out of a particular line, making restocking a constant challenge."
"By mid-September we sold out of a 40ft shipping container within a week of a trade show," says Piers. "We thought it would see us to the end of the year. We need to keep ahead of all that stock ahead of time but because of the cash flow, we can't be as well stocked as we want to. This is the vital time of year, and we risk missing those sales."
Support for stock investment
To keep pace with this rapidly growing North American demand, it needs to invest in the stock it can hold in the US. HSBC UK has been key to helping here. As well as a £140,000 business loan to fund stock growth and new production facilities, the bank is also reviewing their trade finance needs. "With this money, we can really speed growth up," says Piers. "To sell a candle in the US, our money is tied up for a bare minimum of six months. This new trade finance could be central to that. It will grow with us. It would also mean we don't have to put our house up for collateral."
"This would hopefully allow us to massively expand in the US, Canada and elsewhere." The new financing facilities may also enable Piers and his co-founder, Helen, to scale back the equity funding they are seeking. "We were in the process of issuing £1m of new EIS shares, and this means we could give up 50 per cent less equity. We could cut that back to £500,000," he says.
This will help reduce dilution, and so preserve more value when they hope to exit, either through a trade sale or an AIM float in the next four to five years. To get to this point there's much still to do to execute on Marmalade of London's growth strategy. Other export markets beckon. "One customer in Asia asked for ten 40ft-shipping containers in one go," says Piers.
The company will also diversify into other categories such as skincare. The ultimate goal for the business is to increase annual unit sales from one million to five million and turnover to £75m. Other export markets also beckon, including Dubai and Asia.
Its recent purchase of a new eco-friendly UK warehouse, thanks to a six-figure funding package from HSBC UK, has helped Marmalade of London keep up with current and future demand by tripling its production capacity.
A lot of our growth will come from our marketing plan in digital, and we've massively upgraded our photography, which is on a par with other luxury brands.
Becoming a challenger brand
Piers has already learned some lessons he would share with other "disruptor" brands seeking to outclass larger rivals. Marmalade of London invests heavily in its high-end packaging and marketing in order to punch above its weight. Spending on brand imagery is key to helping the company leverage the enormous potential of digital marketing and social media influencers. "A lot of our growth will come from our marketing plan in digital, and we've massively upgraded our photography, which is on a par with other luxury brands," says Piers.
Another key strategy has been to invest in the company's retail partners. Many consumer brands have been tempted, especially during lockdowns, when physical retailing wasn't possible, to pursue consumer sales at the expense of retail relationships. This was a mistake that Marmalade of London avoided, and it continues to invest in a high-end retail presence via its back lit in store display units.
This has included investing in permanent North American showrooms in Atlanta, LA, Las Vegas and Toronto. This enables retailers to visit any time and enjoy hospitality while Marmalade of London showcases its goods. The showrooms are especially valuable during the big trade shows, says Piers. "Showing the whole range in one hit has more impact." The personal touch also still makes a difference, especially in the US, where there is an affinity for all things British.
The value of the personal touch is another tip for exporters looking to build good customer relationships, says Helen Flook. "It's important for them to see the CEO or MD – it's a good touchpoint for customers. They are buying into the brand, as well as Piers and I. People still like to be in the same room."
Piers and Helen Flook's tips
Investing in packaging, photography and digital marketing offer great opportunities to have a strong presence as a disruptor brand when starting out.

Don't neglect retail customers as you grow direct-to-consumer channels. Retailers can be key to brand awareness and growth into new markets.

Having a physical presence in showrooms and personally to form relationships with key customers can really help create and meet demand in export markets.
Our exclusive 'Going global for growth' report explores the international aspirations of UK businesses like Marmalade of London, the challenges they face and the opportunities they are eager to embrace.