With Brexit negotiations rolling on, the trade landscape is changing fast and UK firms are already adapting.
East, West - consider all options
For most UK businesses, Western Europe is still the natural launchpad for exports. Panellists at the events, however, were clear that the stronger opportunities now lie slightly further afield.
Anna Walker, Associate Director for Europe at risk consultancy Control Risks, noted the rising consumer demand in countries such as Poland. "It's said that 1% growth in the Eurozone triggers growth of 1.3% in Central and Eastern Europe," she said.
Walker also pointed to the trend for privatisation of assets in many Eastern European countries. She has seen US firms enter this territory to target these opportunities: "They go straight for the more challenging markets, because that's where they see greater rewards in the long term."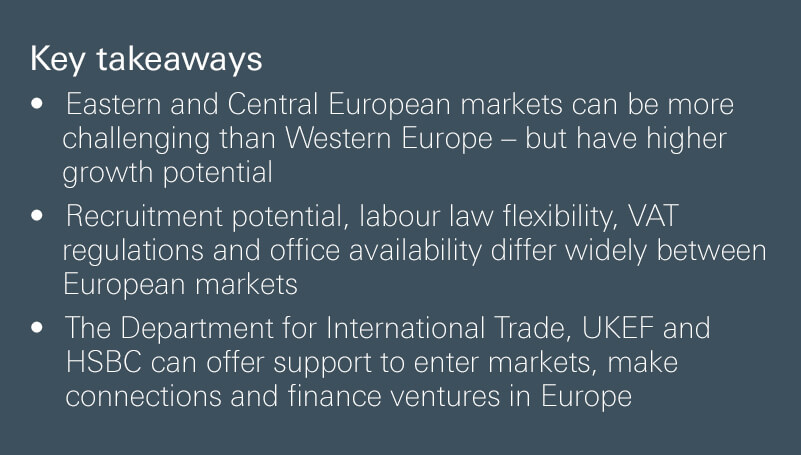 Prime prospects
Romania, Poland, Hungary and the Czech Republic were cited by delegates and panellists as rich in opportunities, with the caveat of political instability and corruption in some markets.
Latvia, Estonia and Lithuania were also highlighted by Julian Lynn, Export Finance Adviser with UK Export Finance, who outlined "huge" opportunities in sectors including fintech, biotech and media.
Lynn emphasised the support available to help businesses manage risk, including from UKEF itself: "Our mandate is that no export should fail due to lack of financing or insurance, even if you're exporting to challenging markets."

Market destinations
Elsewhere, Jeroen Bakhuizen, HSBC's Regional Head of International Subsidiary Banking, Europe, foresaw Ireland, the Netherlands and France as being likely to see sizeable business flows following Brexit. Their logistics, trade treaties and high number of English speakers will continue to attract multinationals.
Businesses looking to establish a foothold in Europe tend to be attracted by markets with more flexible labour laws and developed infrastructure. It may also be useful to think in terms of cities as well as countries, he said, pointing to the concentrations of wealthy individuals in places such as Paris and Dusseldorf.

Tax and labour issues
Business leaders shared the challenges they'd encountered in navigating the varied regulations of European territories, including the administrative burden of accounting for different VAT rates.
While new software applications can handle payments in multiple countries, Anna Walker underlined the need to monitor not just the VAT rules but their application: "It can be used as a political tool in some countries, and you might find that companies in a different sector are not experiencing the same pressure as you."
Skilled labour is now scarce in some Central European countries, where shared service centres established by US and UK businesses have put pressure on the market. However, Walker foresaw possible easing of this situation post-Brexit, with the prospect of Polish workers, for example, returning to that country from the UK.
Doing things differently
Cultural differences can also catch businesses unaware. One clothing company has come across Germans' antipathy to online credit card payments, with many customers seeking to pay by banker's draft or cash on delivery.
And Greg Pitts of Derbyshire-based manufacturer UKCG Group shared the company's success in overcoming red tape to trade with Italy. The firm has achieved customer payments in 60 days, but warned that some European firms sought 90- to 120-day terms.
In such a diverse market, trading in Europe brings different challenges and ways of doing businesses, but even with the current uncertainty the opportunities are as significant as ever.
Useful Links
Europe Country Guides

Markets across Europe offer different opportunities. To find out more about doing business across the Continent visit our Country Guides