Protecting your business against financial crime
Financial crime costs the UK over GBP 50bn every year and although it's often the high-profile, high-value cases that make the news, businesses of all shapes and sizes are vulnerable. We look at the different types of financial crime and how you can protect your business and your employees.
As a business, the main financial crime risks that you may come across are: bribery, money laundering, fraud and sanctions.
Bribery
The UK's anti-bribery legislation, which is enacted in the Bribery Act, 2010, is comprehensive and makes the UK, in comparison with many countries, a safe place to do business.
Before the Act became law in 2011, offering prospects and clients lavish corporate hospitality ahead of a significant contract might not have rung too many alarm bells.
That has all changed now and the definition of bribery in the Act is broad and includes: "offering, promising, giving or receiving a financial or other advantage where the intention is to encourage the recipient to act improperly in an official or business function". This is not just about cash inducements but also covers gifts, entertainment, and holidays.
Whether you are bribing someone or being bribed, it is important to know that you may be subject to penalties laid out in the Act, which include imprisonment and potentially unlimited fines.
The Bribery Act in action
In early 2016, the Sweett Group became the first company to be sentenced and convicted for the corporate offence of failing to prevent bribery and was ordered to pay a fine of GBP 2.25m. The offence related to corrupt payments to government officials made by its subsidiary in the UAE, but the UK directors were prosecuted.
Source: Serious Fraud Office
Money laundering
Money laundering happens when criminals hide money gained from unlawful activities. It refers to the way they 'clean' the proceeds from crime to make this money look legitimate.
Often money laundering involves a series of actions - moving funds between different accounts, people or investments. Moving the money many times over makes it harder to trace where it has come from. Eventually the funds appear to have come from legal, reputable sources.
Businesses of all sizes can become implicated in money laundering so it is important to take all necessary measures to protect your business:
Be diligent
Ask probing questions
Try to establish if transactions are legitimate
Money laundering scams
In 2016, small businesses were targeted in a scam which saw fraudsters try to trick them into laundering money.
The scam started with an email or phone call from fraudsters overseas claiming to be interested in 'investing' in new start-up companies in the UK.
The fraudsters built trust and convinced victims that the money they were transferring into their business accounts was for "investments". The fraudsters knew the limits that would be flagged by each bank and only transferred small amounts at a time to avoid detection.
These investments were in fact a vehicle to launder the proceeds of crime into the UK from other scams.
Fraud
In 2016, the UK lost GBP 2m every day to financial fraud, with an incident happening every 15 seconds (Financial Fraud Action UK). Below, we look at the common scams that you should be aware of as a business owner. They all ultimately aim to create illegitimate payments to a third party or divert funds into a different account.
Putting in place robust processes, building employee awareness, and careful monitoring can help you reduce your vulnerability to fraud.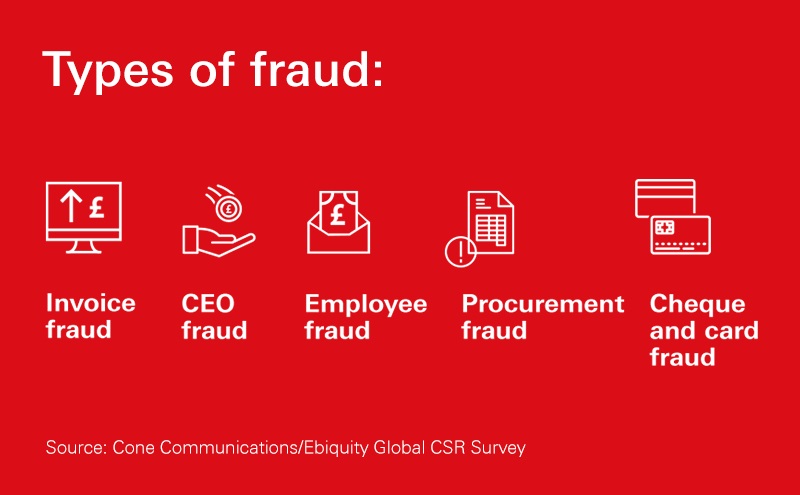 Sanctions
If you are trading internationally, then you need to be aware of any sanctions that may be in place against countries you may be looking to do business with.
Trade sanctions can be put in place against specific countries or entities, and all businesses have a legal responsibility to comply with these sanctions. The Government publishes up-to-date lists and you have a duty to check whether goods you are buying or selling are subject to any sanction. The penalties for failure to comply are severe and the fall-out in terms of reputation significant.
How to protect your business
Across the whole range of financial crime, there are some key steps you can take to protect your business from becoming a victim of, or unwittingly perpetrating, financial crime:
Gather information - your first step should be to gather as much information as possible about customers, suppliers and any potential new entities you are planning to do business with.
Assess the risk - a comprehensive risk assessment should help you identify any particular vulnerabilities in your systems or processes that could be exploited.
Maintain thorough records - financial records should be kept up to date, bank statements reconciled and audits carried out frequently and recorded so that any unusual activity can be spotted.
Build robust controls - dual authorisation, sign off protocols and strict controls over access to physical financial papers and online accounts can help prevent financial crime.
Create a culture of awareness - regularly train staff to spot unusual activity and to be aware of their own obligations. Enforce a culture where employees feel free to question and report anything unusual.

The impact of fraud
Financial crime and fraud is a growing trend in the UK, with 74 per cent of fraud, equalling a staggering GBP 144bn affecting the private sector in 2016. So, aside from your legal responsibilities to help prevent financial crime, there's a real business case too.
Source: Annual Fraud Indicator, 2016
To learn more about how you can protect your business against financial crime risk visit our Protecting your business pages and
Recommended for you…