Background
Based in Wetherby, UK, Proactis provides spend management and B2B e-commerce solutions to businesses around the world. Listed on the UK AIM stock market, and recognised as a market leading global technology provider, Proactis counts many large brands amongst its 1,100 clients and their two million+ suppliers.
Harnessing the experience of Proactis' team of software and financial experts, bePayd was launched in late 2019. Operating through a wholly-owned subsidiary of Proactis, bePayd is a new early payment service that gives small businesses the option of receiving payment on their invoices earlier than their customers' standard payment terms allow. bePayd pays the invoice of any supplier seeking early payment in return for a small discount and is refunded by the customer under their standard payment terms.
The challenge
According to research, the average British small business is owed around £25k in late payments on any given day, with 78 per cent owed money outside of agreed payment terms1. For many, it's the price paid for access to contracts with larger businesses. Recognising the need to support cash flowing through the system more effectively, a small team of developers and finance experts at bePayd set about creating a solution.
Alongside the need to fund the early payments, the biggest challenge facing the bePayd team was the volume of business, as Financial Solutions Director Anthony Persse explains: "The solution is really focussed on small, even microbusinesses, which means the value of the invoices is often low. That means potential income per invoice will also be low, so it really is a volume game. What that meant, was that automating the system for payment processing was essential."
Whilst avoiding the time and costs of manual processing was essential to the business' viability, creating an automated processing capability wasn't entirely straightforward. "The overall product build was quite complex," says Anthony, "and the payment automation required a lot of consideration. It wasn't merely a case of creating an automated process to send out funds; it needed to be able to integrate with any buying organisations' ERP (Enterprise Resource Planning), procurement or finance system, operate in the right format and be capable of working across multiple currencies."
Speed was also essential to support bePayd's USP. "Our whole purpose is to facilitate payments to suppliers with funds into their account as quickly as possible," says Anthony. "Users have the option of either an integration route, where the solution is integrated with a large buying organisation's supplier list, or an integration-free route. In that case, on-boarding takes less than three minutes, including bank grade security and AML checks, and funds can be in the supplier's account within the hour. We needed to ensure that the payment processing supported that."
Given the Covid-19 crisis, there is an increased pressure on business cash flow, so a solution that was scalable if demand should rapidly grow, and that could be utilised across the multiple markets Proactis operates in, was extremely important.
Our HSBC Connect Host2Host solution offered the ideal linkage with bePayd's own ERP. Combined with Faster Payments, it offered an ideal solution and a number of benefits.

Craig Wilson Senior Cash Management Consultant, HSBC
The solution
As Proactis is a long-standing HSBC customer, bePayd turned to the bank initially for a facility to fund the development of the solution. "We discussed the solution with them and the practical challenges we faced," says Anthony. "The HSBC team very quickly indicated they had a workable solution to help us meet those challenges."
Craig Wilson, Senior Cash Management Consultant at HSBC, says: "The close relationship we already had with the business meant that we could quite quickly see the need for them to be able to make payments quickly and efficiently. In the testing phases, manual processing worked well, but with expectations that the business could quite quickly ramp up, the need to automate was clear.
"Our HSBC Connect Host2Host solution offered the ideal linkage with bePayd's own ERP. Combined with Faster Payments, it offered an ideal solution and a number of benefits."
In simple terms, bePayd works when a large business confirms invoices they have approved for payment. bePayd then contacts the supplier and offers to accelerate the payment for a discount. If the supplier takes up the offer, on-boarding takes place within three minutes via mobile phone. Once completed, the supplier simply clicks a button to request immediate payment and a notification is sent via HSBC's Host2Host facility to release the funds, with details of the recipient's bank account and details of the required currency and value. Subsequent payments are even more slick, taking just three clicks before funds are released and, with Faster Payments, they are in the supplier's bank account in under 15 minutes.
Although speed of payment was obviously a key focus, accuracy and control were equally as important. "The key to bePayd is speed and simplicity. We needed automated payments for speed and to reduce the error of manual input, but we also needed absolute control of those payments and confidence in the system. Without question, we couldn't have done it without HSBC," says Anthony. "HSBC provides a whole host of reports that provide that visibility and control and that integrate with our own reporting system to create further efficiency."
It also brought added benefits for bePayd's customers, explains Anthony. "HSBC sends a report when a payment is made, which means that we can automatically tell a supplier via SMS that the funds have been released. It also notifies us if there are any problems with the payment."
HSBC's solution gave us the confidence to launch the product nationwide. It will also allow us to take the product into other markets in Europe and the US.

Anthony Persse Financial Solutions Director at bePayd
The process
Despite the complexity of the solution, the implementation was carried out quickly and without issue, says Anthony. "Proactis has always had a very close relationship with HSBC and their response to this new need showed just how strong that relationship is. Our relationship manager, Wayne Shadlock, has always been very supportive, and Craig, Hollie Johnson and Philip Hardy were invaluable throughout this process, in terms of implementation and technical support. We had weekly progress calls throughout the implementation and continuous testing gave us reassurance that the system was robust and fit for purpose. The support we received from HSBC was exceptional."
"The team at bePayd was pretty small and tight knit, and we met that with an equally small and focused team from our side," says Craig. "That meant we had the agility to respond to bePayd's needs quickly and efficiently. A build that would in normal circumstances take around 6-12 months to implement, was rolled out in under six."
That responsiveness was crucial to bePayd's changing timescales for the product's launch. "Initially, we'd planned a soft launch and then gradual roll-out," says Anthony. "However, the rapidly changing situation with Covid-19 showed that liquidity was a major issue for businesses that we needed to respond to."
"By signing up to bePayd, small businesses can get their cash faster while big businesses take comfort in knowing they are doing everything they can to help their suppliers during tough times without any adverse effect on their own cash flow."
Scalability is one of the main benefits of the payment processing system HSBC implemented for bePayd. "HSBC's solution gave us the confidence to launch the product nationwide," says Anthony. "It will also allow us to take the product into other markets in Europe and the US, with the required adaptations to meet the regulatory environment in those markets, but with the knowledge that the fundamental processing system is adequate and effective."
Related Articles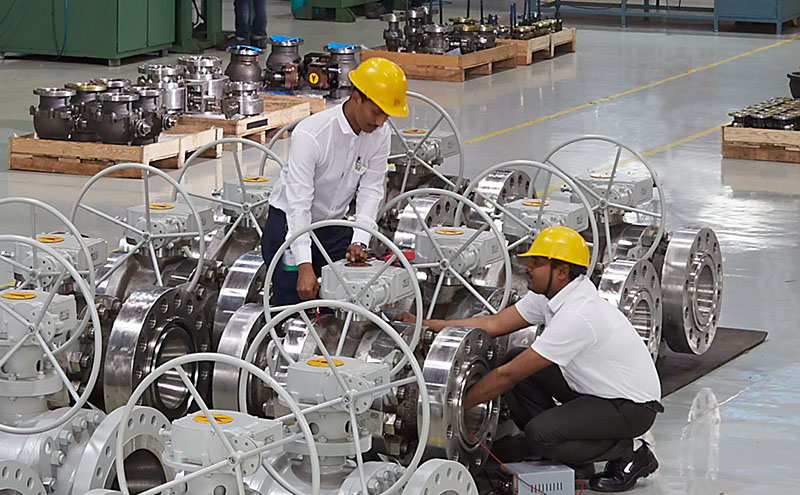 How HSBC's trade expertise is helping PJ Valves reach its potential.
Working capital solutions that flex to match Eland Cables' projected growth plans are helping the company achieve its international ambitions.