Business Finance

Managing cash flow
Accessing capital
Working capital
COVID-19: Financial resilience – bridging from recovery to new reality
Reflecting on the capital structure implications
The liquidity challenge that the recovery phase of the COVID-19 crisis poses is hard to underestimate. Social distancing, the availability of testing/treatment and potential 'bumps in the road' will all weigh heavily on business confidence and the wider economic environment.
Businesses of all shapes and sizes will be required to plan, model and pull a range of operational, financial and strategic levers, but in doing so must also consider the capital structure implications of these actions when facing up to a new reality.
The changes that businesses have made during the lockdown period have been nothing short of incredible, as companies across the UK have radically adapted their processes to keep our essential infrastructure functioning or placed their operations into effective hibernation in a matter of hours. The process of managing cash burn during this time has been, in some respects, relatively straightforward – aided for many businesses by a range of Government support. As the UK has transitioned into a recovery phase businesses will need to consider how to adapt for an even more unpredictable economic environment. Different bridging strategies might be capable of funding a business through the recovery phase, but they could have vastly different balance sheet implications for the longer term
01 - The bridging requirement will be defined by the liquidity need - cash visibility is essential
Building and maintaining a robust Short Term Cash Flow (STCF) forecast will support finance teams gain visibility of daily cash outflows and identify pinch points
Stress testing is essential – identify sensitivities driving cash outflow and build headroom for unexpected cost
The exercise of building the model will help operational and finance teams agree on what commercial performance needs to be achieved in order to operate sustainably during the recovery phase.
Other key considerations when modelling cash flow
What revenue/cost assumptions are being made? Are these realistic, given consumer sentiment, social distancing rules and new costs e.g. Personal protective equipment (PPE)?
Can the business flex capacity and costs easily as demand changes? Have client requirements changed?
Have you revisited the key working capital and lead time assumptions under-pinning the cash flow timing?
02 - Financial scenario planning will need to take into account an array of factors,
most of which will be difficult to accurately model and/or require regular reappraisal

03 - Strategic funding levers should be considered through the recovery phase
The recovery phase could be long and may come with an increased funding requirement. How can you adapt the shape of the business to a new future and can you generate or preserve cash strategically during the process?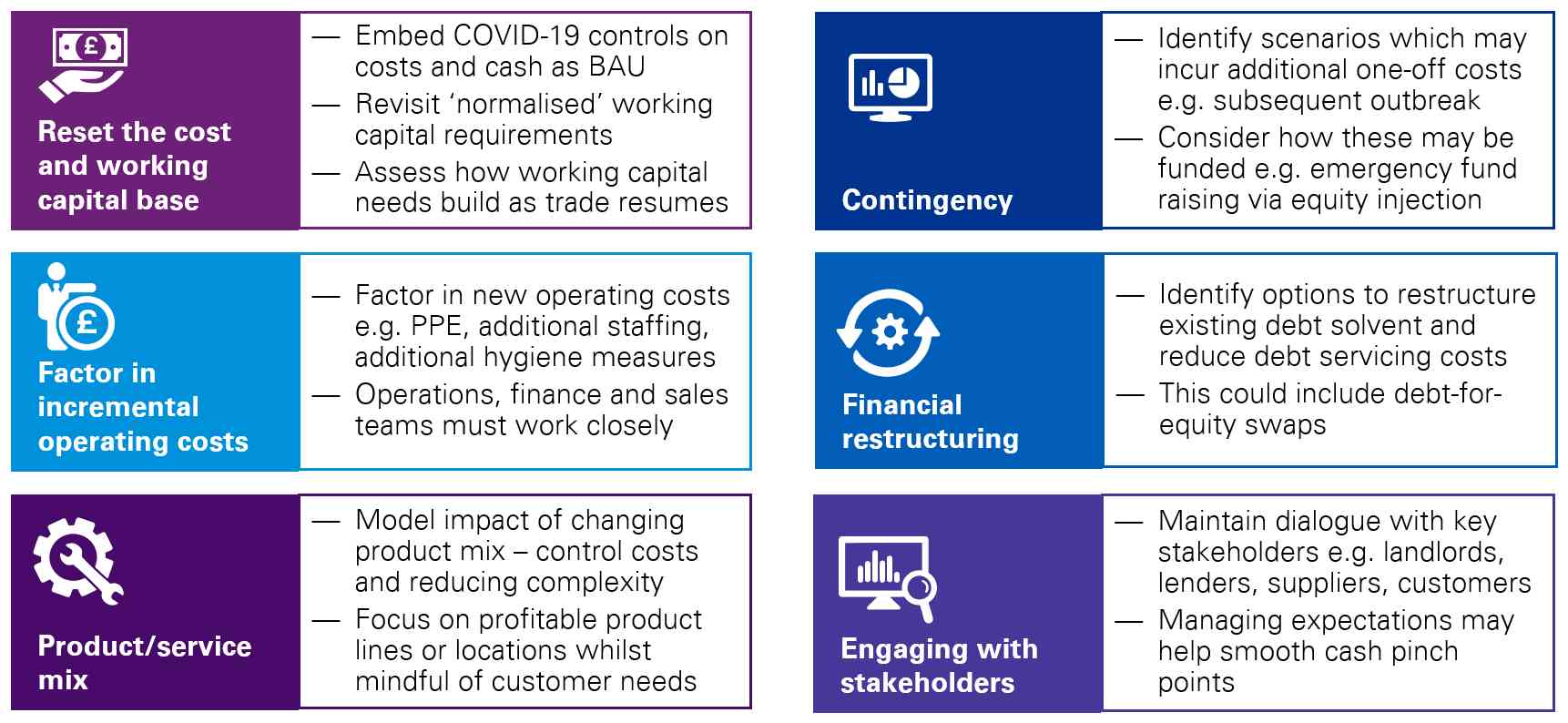 04 - Take time to reflect on the capital structure that will emerge in your 'New Reality'
The path toward the 'New Reality' is likely to look very different depending on the sector the business operates. Do you have a clear understanding of how the business and its capital structure will look? Will it be a business that you, your Board, your staff, your trading partners and your financial stakeholders can move forward with in the long term?
Example 'hard decisions' being taken by some of our clients already
The restaurant chain
Concluded return to 'normal' trading remains too far away.
Even after modelling aggressive cost preservation strategies likely to be insufficient funding available to realistically resume any form of trade in the current environment.
Considering whether to enter an insolvency process now, with a view to identifying funding options for future NewCo restart.
The industrial distributor group
The business worked hard to demonstrate it was operationally possible to reopen its full distribution network.
However when layering in the commercial risk considerations, it was clear that to re-establish a financially resilient business, a significant proportion of the branch network would need to close permanently.
The family business
Trading well pre-COVID, cost reduction measures taken; CLBILS application viable.
Stood down CLBILS application as debt burden would erode equity value over time and consume free cash flow.
Family exploring a sale or wind down as more attractive options, avoiding creating a debt-laden 'zombie' business.