Business leaders got some valuable insight at HSBC Trade Exchange events in London and Birmingham. In a roundtable session on the US market, experts discussed current opportunities in the world's biggest market, and how best to go about capturing them.
The big picture
Turmoil on the political scene is affecting business opportunities in various ways - positive and negative.
High-level political instability in the US is contributing to "paralysis and dysfunction", according to Jonathan Wood, Director at risk consultancy Control Risks.
"There is also a shortage of administrative capacity across a wide range of organisations. In some cases, that's causing delay and uncertainty when businesses apply for licences," he said.
Meanwhile the Brexit negotiations prevent the UK and US working on a free trade deal. Paradoxically, however, that situation could be helpful for UK firms.
`The UK and the US are desperate to show evidence of deepening trade links, but they're hamstrung by not being able to negotiate deals at present," explained Allie Renison, Head of Europe and Trade Policy at the Institute of Directors.
"Any business idea that amounts to investment in the US is going to be welcomed with open arms by the DIT - you will get to the front of the queue."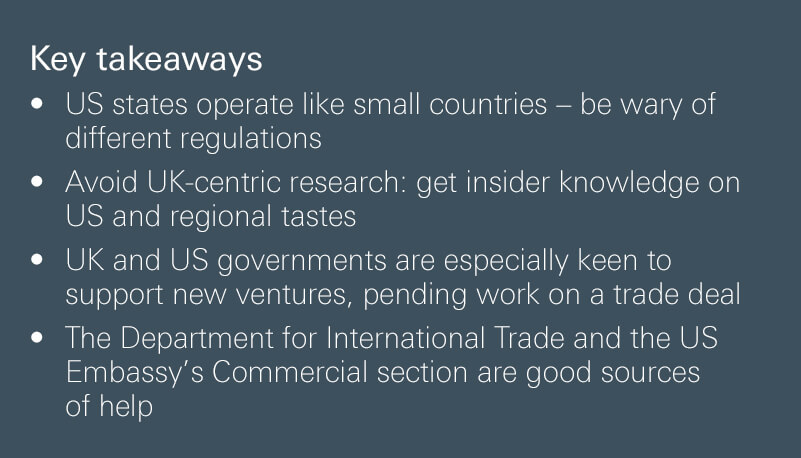 Think like an American
The importance of researching the market from a US perspective was emphasised by Nick Smith, CFO at men's fashion brand Orlebar Brown.
Reflecting on mixed success in the US with previous employers, he said: "The mistake a lot of British firms make is that they do their commercial analysis from a British point of view."
He recalled his experience at fashion retailer Jack Wills. Their hoodies, wildly popular in UK university towns, failed to break through in US college locations because students there prefer clothes with their own college brand.
The "zipcode accuracy" of Orlebar Brown's customer data from its online business has been key to identifying prime locations in the US. "We have stores in Miami and New York, and they often want different things. People in Miami tend to wear much brighter clothes, for instance," Smith added.
Keith Warburton, CEO of consultancy Think Global Growth, also underlined the need to allow for the US mindset: "If something goes wrong in a British firm's trade with the US, there's a tendency to blame personal issues. But it's just as likely to be cultural differences in the US as it is in China."

The right side of the regs
Panellists explored the need for UK entrants to familiarise themselves with the regulations of different states and cities.
Permit requirements vary, for example. Those transporting goods across state boundaries need to be aware of differences in product liability insurance. When employing US citizens, businesses need to take account of the tax levels in different states.
Despite the freewheeling image of the US, regulations can be stringent. Nick Smith recalled how a shoe colouring approved by EU markets was rejected under Californian rules: "We chose not to sell that shoe anywhere in the US, to avoid any risk of breaching Californian rules."
He also pointed out that firms establishing a company in the States will require a staffer with a US social security number during the paperwork process.
US plans to renegotiate the NAFTA agreement need to be borne in mind by those with a footprint in neighbouring countries, Allie Renison warned. "Right now it's tariff-free to export from Canada or Mexico, but the US wants to squeeze the rules of origin," she explained.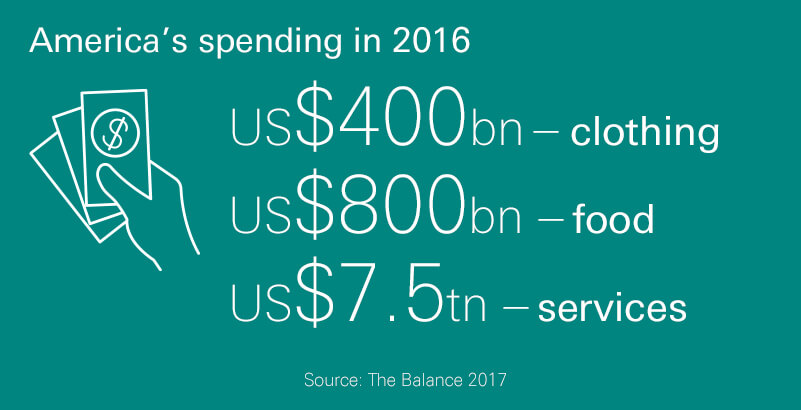 A host of opportunities
Renison pointed to specific openings for UK firms in emerging technologies, such as healthcare data applications. She also revealed a surprising new trend sweeping the US.
"A lot of money has been pumped into bringing British football to the US. It's easier to watch all the Premier League games on TV there than it is here. That brings a huge opportunity, particularly around merchandise," she said.
Panellists also hailed emerging opportunities in other parts of the continent, particularly in Mexico - keen to break away from its dependence on US goods - and Argentina, where a new administration is introducing import/export and labour reforms.
Keith Warburton urged businesses to think hard about their fit for American consumers: "If you can show how your product is right for the market now, then regardless of trade relationships, you can be successful."
Back to the Export Resource Centre
No fashion dummy
Read how one UK business went from a London pop-up shop to New York's Fifth Avenue.