As the countdown for Brexit negotiations continues, businesses on either side of the English Channel still face uncertainty. However, while taking the 'wait-and-see' approach is tempting, there are steps you can take to put you ahead of the game.
The current climate
Most global economies are growing at a "pretty decent pace" and "global trade is now expanding at a modest pace after a period in the doldrums", notes Mark Berrisford-Smith, Head of Economics, Commercial Banking, HSBC.
In comparison, he says the UK economy has slowed down, largely as the pound has fallen against other currencies. "And it's not likely to get back to pre-referendum levels until such time as we have Brexit certainty."
However, regardless of the Brexit outcome, expect some disruption if you are involved in exporting or importing, notes Berrisford-Smith. Whilst a `soft' transition to a single-market type arrangement may mean "life will pretty much carry on as is", he believes a hard, late-in-the-game, cliff-edge departure will be a challenge for all.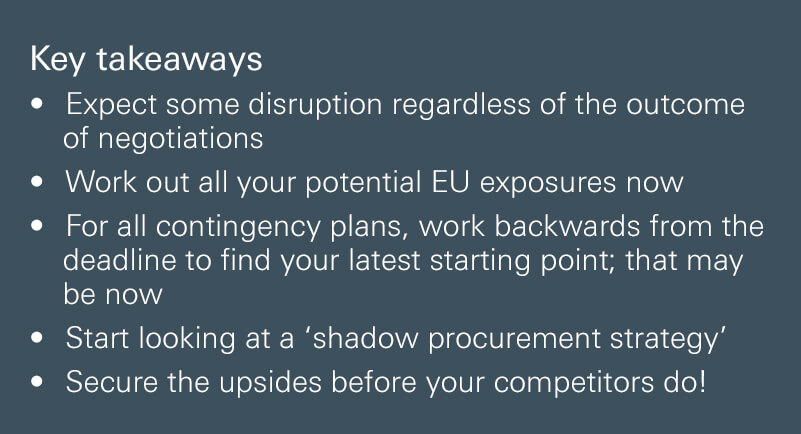 Wait and see
Deal or no deal, planning is essential, says Allie Renison, Head of Europe and Trade Policy, Institute of Directors (IoD). With around 80 per cent of IoD members having some form of commercial link into the EU, she notes many are holding off from doing anything, simply because "it's difficult to plan for the unknown".
With only around 10 per cent of IoD members having implemented a Brexit contingency plan to date (such as dual location or relocation of some operational aspects), and about 30 per cent having no contingency plan at all, the majority are playing a waiting game.
"Holding off is understandable but even businesses who don't think they will be affected should be looking hard at their potential exposures," she advises.
I have a cunning plan
This will be an individual journey, says Mark Essex, Head of Brexit Public Affairs, KPMG. "No two businesses have the same Brexit exposure, even amongst those who on the surface are very similar."
If you have any kind of exposure to the EU in your supply chain, for example, it is worthwhile window-shopping in non-EU markets, not to buy but just to explore new supply chain arrangements, says Essex. This is what he calls a "shadow procurement strategy".
Brexit could even be the catalyst for you thinking more globally and seeking new sales markets. Of course, if you are looking to go beyond the relatively safe harbour of the EU, you should take advice, says Berrisford-Smith. Doing this now could put you one step ahead of your competitors if we reach the 'cliff-edge' scenario.
Count backwards
When planning for the worst and hoping for the best, knowing how much to spend on your plan is hard, says Essex. Just bear in mind that not being prepared at all for the worst outcome may prove as costly as having spent lots on a plan that is not needed. There is a way to ease the pain.
"We advise businesses to think about where their point of no return is on any plan," says Essex. By counting back from the March 2019 deadline by the amount of time you think it will take to get each plan in place, you allow yourself to be ready if the worst happens, without jumping too soon.
A question of people
"Any future immigration policy looks likely to be tighter than it is now and the availability of people around the minimum wage level is only going to get narrower," says Essex. This could mean that the cost of employing people at this level will only go up in the short-term. If you have a business model that depends on low-cost labour, "start planning now", he says.
Solutions might include finding ways of becoming more productive with fewer staff, or perhaps adopting more flexible working arrangements to attract and retain the best employees.
Regardless of outcome, seeking the upsides will give you the advantage over those who do not, states Essex. "It's relative. Even if you have slowed down, as long as your competitors are going slower than you, you can still win."
Back to the Export Resource Centre
Focus on Brexit
For more guidance and context around Brexit, visit our Brexit hub.
Brexit webcast
Register for our webcast series, which will address the most significant Brexit effects in the coming months.