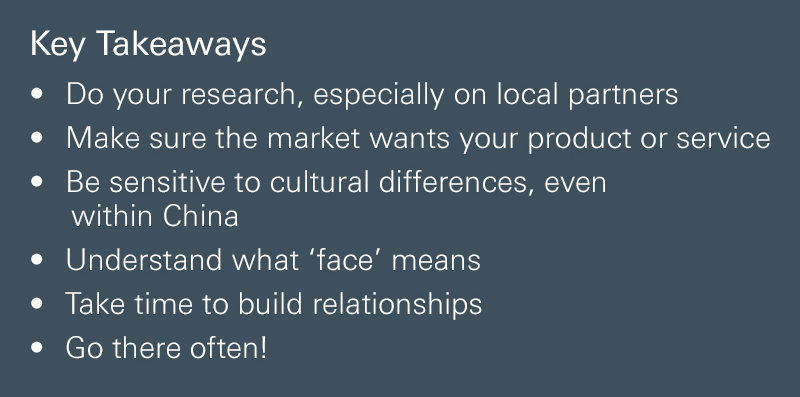 As China moves through a major structural shift in economics away from export towards service and consumption, the opportunity for UK businesses is huge, said Adam Tian, Head of China Desk, International Subsidiary Banking, HSBC.
It can, though, also be a challenge for foreign businesses, he noted, "not least because it is so big". From a regulatory perspective alone, differences will arise from city to city so that "agreement you've got in one city may not mean you can do the same thing in another."
If you are new to the market, one of the major stumbling blocks can be the cultural difference. If you're considering China, you do need to be prepared to adapt to local ways. Being aware of and open to those differences can certainly stand you in good stead.
Different communication channels
The level of commitment you need to show when working with local businesses at a senior level may come as a bit of a shock. Work and leisure often blend together and many executives have grown used to being 'on call' 24/7.
There is certainly an expectation that you, as an overseas or European business partner, will keep up the same pace. As such, the WeChat mobile platform is an essential tool that you should never turn off. Forget phone and email, "our clients are absolutely expecting us to be on the right platform all times of the day and night," said Margaret Manning, CEO of Singapore-based Adelphi Digital Consulting Group.
Some cultural elements are less easy to grasp, she explained. Take the Asian concept of 'saving face'. With roots in Eastern philosophy, 'face' loosely translates as personal honour to be protected at all times – to the point where admitting failure is just not done. "It is hugely important but takes time to understand," she commented. When employing locals or working with customers, "it is essential you deal with them in a way that acknowledges culturally important issues such as 'face'".
Keeping talent
In some respects, the differences mean you may need to rely on local talent, Tian advised. However, China is a "tough HR landscape to negotiate", added Manning. "Top people can now command very high salaries and some have extreme expectations."
"Finding local talent is important; keeping them can be hard," said Alexis Bonhomme co-founder of digital advisor, Curiosity China. "You can end up being a recruitment ground for local businesses."
One way of building the partnership is by bringing your senior employees back to the UK to experience business from your side, suggested Tian. "It creates a sense of belonging." Once that relationship has been built, the connection can be very strong and profitable for both parties.
To find trustworthy local partners, you'll need to carry out strong due diligence. At least investigate a potential partner's track-record with other foreign companies, said Manning. When working with potential distributors or buyers of your goods, of course, you need to be aware of any IP issues and the way rules are interpreted from city to city.
Help is available from the British Chambers of Commerce in China, and bodies such as the China-British Business Council. These, along with the British Ambassador's office in China, the Foreign Office and DiT, can be especially useful when you first move into the region.

Being there
If China is on your radar, you need to go there regularly because building relationships is essential. There are no short-cuts. Your landing point will usually be one of the vast tier one cities such as Guangzhou or Beijing, said Bonhomme. "One store here can help build your identity and legitimacy." However, you may choose to trade online.
"Testing the water from the UK" through e-commerce is entirely feasible as Chinese consumers are very comfortable with it. Research China's 'Single Day', a $19bn annual online consumer event that UK companies can tap into through third parties, such as Alibaba, or through their own online presence. Be aware that innovation in this space is moving at an alarming rate; keeping on-trend is essential.
Competition can be fierce. "Do your homework," Bonhomme advised. "But make sure you have a product that the market needs – and an outstanding competitive advantage."

Calling all sectors
As part of its 13th five-year plan, which began in 2016, China is pumping significant central government funding into key sectors to aid rapid development: AI, robotics, aviation, transit systems, agriculture, energy, materials science, pharmaceutical, and integrated circuit technology, are all beneficiaries.
UK firms "are experts at what China needs to improve", commented Tian. "That's why there is huge opportunity up for grabs for UK firms doing business in China."
Back to the Export Resource Centre
Useful Links