Finding the right people
One of the greatest challenges facing businesses is that of finding and retaining the talent that will help them grow and achieve their ambitions. If you can find the right people for your business, you can achieve a real step-change in your development.
In the infographic below, we look at the skills gap facing UK businesses and the steps you might take to build the right team and grow your business.

The talent challenge
The UK labour market is currently historically tight, with unemployment at 4.6%, its lowest level since 1975 and it is putting pressure on businesses. The challenge to find people with the skills and knowledge to build your business has never been greater and using the right retention strategies more important.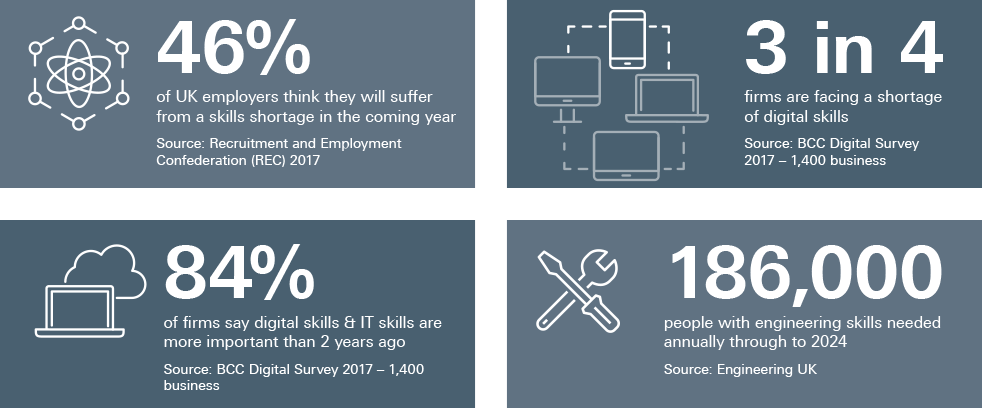 So how do you find the people to grow your business?
Consider your proposition

Even if you can't offer a high-flying career path and truly competitive pay, consider other appealing features for your target market such as:

Be seen in the right places

Finding new, quality staff has never been easier in the digital age. But which platforms should you be advertising on and how can you drive interest in the roles you need to fill?

Grow your own

The workforce make-up is changing.

Gen Y and Z place personal development at the very top of their priorities when choosing an employer. So a focus on training and development is important.

Take on apprentices

Apprenticeships may have become less fashionable in recent years but they can be a very efficient, cost-effective way to build a workforce with the skills you need to grow.

The Brexit conundrum

Brexit will undoubtedly have a significant impact on the UK workforce but how might it affect SMEs? A survey by the Federation of Small Businesses found that …