Public Sector & Education
Our Public Sector & Education team focuses on supporting Universities, Independent Schools, Education Groups and Local Authorities. We work alongside local relationship directors to share our experience and insight, support our clients' ambitions and fuel their growth.
To find out more about what we do in the Education Sector, click here to go to our Education Hub.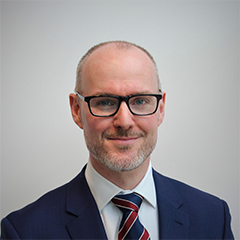 Leo Jones
Leo is the HSBC UK Sector Head for the Education and Not-for-Profit sectors. Leo brings a range of skills developed over two decades with HSBC where he has previously held roles covering Retail Banking, Owner Managed business and Mid-Market Corporates. Leo has led relationship teams and delivered strategic change programs before moving to work with the charity and not-for-profit sectors in 2016. Leo is passionate about problem solving and identifying creative solutions and brings experience in finance, governance, and risk management to support institutions across the sector with strategic planning for sustainable growth.
Working closely with sector aligned relationship teams, Leo is responsible for coordinating and leading the Education and Not For Profit strategy for customer-facing teams across the bank's Commercial Banking business. This includes leading a number of high-profile partnerships, speaking engagements, ensuring the best possible client experience and developing the bank's thought leadership content, in a dynamic and ever-changing landscape.
In the Education sector, Leo's aim is to develop higher quality engagement with Universities, Independent Schools, EdTechs and Alternative Providers, whilst assisting with student and employee wellbeing, IT infrastructure, liquidity & deposits and various financing requirements – be it sustainable green finance and bank loans through to accessing the debt capital markets.
Leo works with various teams across HSBC's global footprint to help develop global connections for institutions, academics and students to help them maximise their opportunities within the HSBC network.